If you have any queries, please email cwp.nextstepcards@nhs.net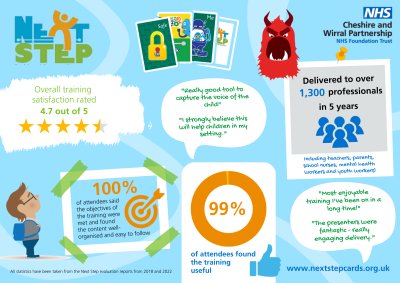 Date

Where

Booking form

Wednesday 6 December 2023

Afternoon: 1.30 pm - 4.45 pm

MYA, Liverpool L1 3DY

Complete this booking form to attend the 06/12/23 afternoon session - SPACES AVAILABLE

Thursday 25 January 2024

Morning: 9.15 am - 12.30 pm

The Old Schoolhouse Community Project, Huyton L36 0UX

Complete this booking form to attend the 25/01/24 morning session - SPACES AVAILABLE

Tuesday 30 January 2024

Morning: 9.15 am - 12.30 pm

Afternoon: 1.30 pm - 4.45 pm

The British Psychological Society, 30 Tabernacle Street, London EC2A 4UE

Complete this booking form to attend the 30/01/24 morning session - SPACES AVAILABLE

Complete this booking form to attend the 30/01/24 afternoon session - SPACES AVAILABLE

Tuesday 13 February 2024

Morning: 9.15 am - 12.30 pm

Afternoon: 1.30 pm - 4.45 pm

The Holiday Inn, Ellesmere Port

CH65 2AL

Complete this booking form to attend the 13/02/24 morning session - SPACES AVAILABLE

Complete this booking form to attend the 13/02/24 afternoon session - SPACES AVAILABLE

Monday 4 March 2024

Morning: 9.15 am - 12.30 pm

Afternoon: 1.30 pm - 4.45 pm

Shrigley Hall Hotel & Spa,

SK10 5SB

Complete this booking form to attend the 04/03/24 morning session - SPACES AVAILABLE

Complete this booking form to attend the 04/03/24 afternoon session - SPACES AVAILABLE

Monday 18 March 2024

Morning: 9.15 am - 12.30 pm

Afternoon: 1.30 pm - 4.45 pm

Engine Rooms, Birchwood Park, Warrington WA3 6AE

Complete this booking form to attend the 18/03/24 morning session - SPACES AVAILABLE

Complete this booking form to attend the 18/03/24 afternoon session - SPACES AVAILABLE
How much does the training cost?
Our costs are:
CWP employees – fully funded
£150 per practitioner - which includes a half-day face-to-face training, all resources and access to further resources via a password-protected area of the Next Step Cards website
Please see our terms and conditions page for details of our cancellation policy.
Prior learning
Please visit the training section of the website for our prior learning course which should be viewed before attending your Next Step course.